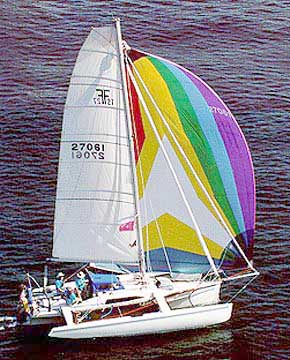 Photo: Tom Lyon
Ad for February 1999
Ever since Rich Holden bought his new asymmetric spinnaker and furling jib, he's been catching a lot of fish.
Last spring, he towed Seabird his F-27 folding trimaran to sail in Pensa-cola, Florida, then to Miami to sail on to the Bahamas and to fish. And he caught a lot of fish. As it turns out, you just have to be going about 6 knots to catch fish. And with the new spinnaker, that only required about 4 knots of wind!
In August, Rich hauled the boat to Whiskeytown Lake near Redding, California, then up to the San Juans and Canada to relax and to sail -- impossible in the light air without the new spinnaker.
And then in October, Rich joined in the Latitude 38's Baja HaHa Rally to Cabo San Lucas, finishing first in his division, all the while catching more fish.