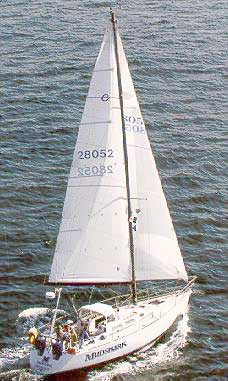 Ad for April 1999
Mudshark, Dave Fullerton and Beki Thomson's Express 37, placed first in the "prestigious" Enchilada Division of Latitude 38's Baha Haha down to Cabo San Lucas.
Dave began racing on a 24' Islander Bahama. When the crew complained that the sails behaved like paper towels -- soft and absorbent -- a 20-year association with Pineapple Sails began. He then raced for years on his Ranger 26 and ultimately he and Beki decided on an Express 37. They wanted to go cruising. Competitively, of course.
They added "the world's most perfect" main, two jibs, and, to facilitate use of the twelve-year-old Pineapple spinnaker that came with the boat, a spinnaker sock, all from Pineapple Sails. According to Dave, the sock is as valuable as their autopilot! Because it is reliable and well-engineered, they soon learned they could do all their downwind sailing with their spinnaker. Their sets, gybes and dowses would always be under control. No more motoring for them!