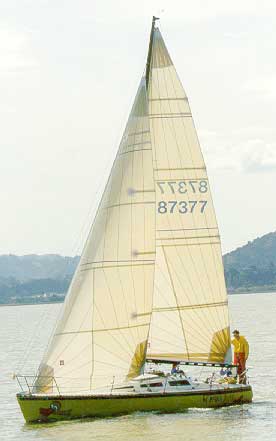 photo: Ramsey Photography
Ad for June 1998
Lee Garami raced his very first race in 1986: The Konocti Cup on Clear Lake in his O'Day 2-22. This spring he raced the race again, in My Rubber Ducky, his Hobie 33. And he won it!
Lee sailed his first Windjammers Race, from San Francisco Bay to Santa Cruz, in 1990. Last fall, sailing My Rubber Ducky, he won it overall!
The races are as different as night and day -- literally. The Windjammers is a downwind ocean race. The waves were big. The wind went aft. The sun went down. And Lee's new Pineapple "chicken chute" had him setting early and sailing fast, pulling ahead of bigger, faster boats. The Konocti Cup is lake sailing at it's finest: the water was flat, the beginning was windy and the end was light. And the shape and stability of Lee's new Kevlar main gave him the speed he needed to pull ahead of the fleet and stay there.
Wherever you sail, Pineapple Sails provides the speed and versatility. Give us a call and let's make your sailing absolutely ducky, too!