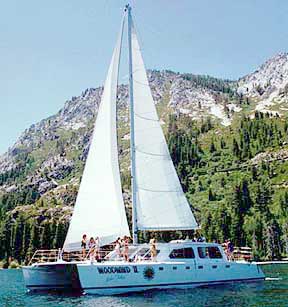 Ad for April 1998
Imagine a daysail on lovely Lake Tahoe, with the snow capped Sierras in the background. You're cruising on Woodwind II, a brand new 55' Searunner catamaran, with one or two or fifty of your closest friends. You glide along at 10, 12, 14 knots, in the warm, clear, thin mountain air.
Woodwind II was built just last year in Aberdeen, Washington, then sawed in half, trucked to Tahoe, and reassembled at 6200 feet. Steve Dunham of Wood-wind Charters is understandably proud of his giant new day sailor. And Pineapple Sails is proud to be a part of the whole experience, helping with the deck layout and the custom rig, and then design-ing, building and delivering a first-rate set of sails
Pineapple Sails has been building sails for Woodwind Charters for twenty years, for boats that sail spring, summer and fall, seven days a week, in varying conditions and in the high altitude sunlight.
Call them for hours of great sailing.
Call us for great sails.