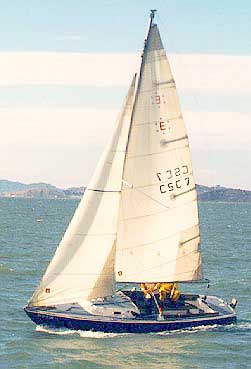 Photo: Marceline Therrien
Ad for October 1997
Over the years, scores of sailors have flocked to Cal Sailing Club in Berkeley where, for minimal dues and a few hours of volunteered time, members have access to the club's fleet of dinghies, keel boats and sailboards.
Huey, Duey and Louie, their three Pearson Ensigns, and Donald and Daisy, their Pearson Commanders, take more than their share of use and abuse. Club members practice docking under sail and crew-overboard drills and just go sailing - seven days a week!
This past summer, senior skipper Dan Acland entered Dewey in Berkeley Yacht Club's Friday night series. Billed as "Team Mallard," Dan and his crew locked up the 25-race series weeks before it was over.
Pineapple Sails has been making sails for Cal Sailing Club for over 20 years.