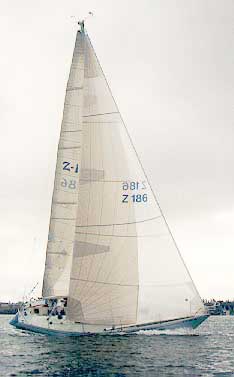 Photo: Mariah's Eyes (510) 864-1144
Ad for in May 1997
Steve Hanson thoroughly enjoys sailing Saltshaker, his Contessa 39, in all the double-handed Bay and ocean races. So when this year's ocean series started off with a brand new tune-up race, the "OYRA Shorthanded Ocean Race," Steve and his regular crew, John Parisot, signed up.
Saltshaker came equipped with a full set of Pineapple Sails when Steve and Debbie Hanson bought her -- all of them 12 to 15 years old! But last year a brand new Kevlar #3 jib replaced the one built in 1983 and this year the old #1 mylar genoa, also 1983 vintage, was retired in favor of a new Kevlar one.
These new Pineapple sails had Saltshaker powered up and pointing high and she won her division in the double-handed OYRA-sponsored race.
Give us a call and let's talk about replacing your "seasoned" sails with fast, longlasting ones from Pineapple Sails.