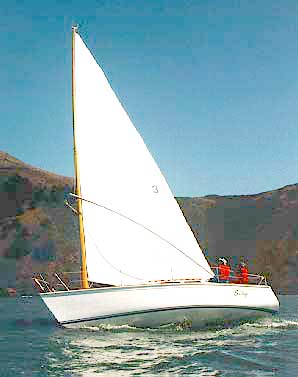 Photo: Mariah's Eyes (510) 864-1144
Ad for June 1997
Steve Seal and Larry Riley have just finished commissioning Silkye, their new Wyliecat 30.
Silkyes, according to the folklore of Irish and Scottish fisherman, are seals that can shift into human form and back again. They change their shape to befriend us and even save us from the perils of the sea. Steve and Larry's catboat, with its single sail, is the quintessential "shape-shifter," easily changing from short-handed or fully crewed racing to cruising with family and friends.
The Wyliecat is rigged with a flexible carbon mast, allowing for "shape shifting" of the Wyliecat's main to power the boat in light air and de-power in heavy, to point up and to reach off and to run. So the sail must be carefully designed to adjust to the changing conditions.
Larry and his crew, John Skinner, tested their Pineapple mainsail's versatility in this year's Doublehanded Farallons Race -- and finished first in their division and fifth overall in a fleet of 120 boats.
Pineapple Sails is legendary for quality and performance. Steve and Larry would have no other sailmaker build their "suit of sail."