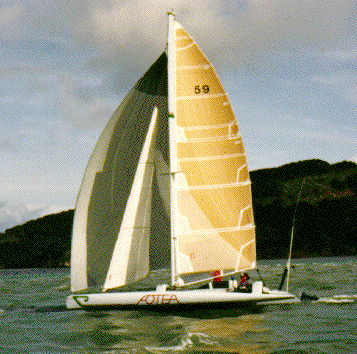 This ad for March, 1992
What if they had a race and just about everybody came?
The Singlehanded Sailing Society's "Three Bridge Fiasco" is just such a race. With 123 single-and double-handers in eight divisions, the competition is intense. Start times are based on handicaps, with the smaller boats starting well ahead of the bigger ones. And the three marks of the course, Blackaller bouy at the Golden Gate Bridge, Red Rock near the Richmond/San Rafael Bridge and Treasure Island under the Bay Bridge, are rounded in any order and in any direction.
Peter Hogg's Pineapple powered trimaran, "Aotea," started last and finished first, for the second year running. And Pineapple powered boats were first in four of the eight divisions!
Sailing shorthanded, you're really on your own. And it's important to know you can count on your sails. Call us today to discover what Pineapple sails can do for you.
You won't be alone!
Peter Hogg, "Aotea" (Antrim Frog-Froce Trimaran)
Michael Katz, "Fast Lucy" (Nonsuch 36)
Ed Ruszel, "Chelonia" (Yankee 30)
John Bowen, "Current Asset" (Islander 30)