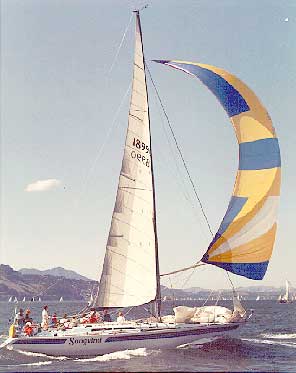 photo: Diane Beeston
Ad for July 1982
The Jensen family spends much time sailing. They find sailing an inspiring recreation in which the family can participate together, and among the most rewarding of family duties.
The Jensens have owned their Cal 39 Sangvind for more than ten years, and while the boat had not changed much, the family had.
With the enlarged and strengthened crew and recognizing that they had put a good number of TransPacific and Mexican ocean races under their belts, the Jensens decided to get a new boat.
Deciding on a new boat is quite a project in any democracy, be it a political or a domestic one. The new boat would have to be durable, since they would expect to own her for at least ten years, like the Cal 39 she must be a suitable family boat, and she must be enjoyable to race on the long ocean races.
She should be fast and fun to sail, while also being suitable for a few weeks in the Delta. After much contemplation and discussion it was agreed upon to have a 48-foot boat built to the design of Bruce Farr.
And so the new Sangvind is born.
The Jensens already had a sailmaking relationship with Pineapple Sails through the old boat; they recognized the deep quality of the expertise which is so readily available from their loft, and realized that the new boat would benefit immeasurably from their professional capability.
Pineapple Sails is proud to be selected by the Jensen family as the sailmaker for Sangvind, and we wish the Jensen family fair and fast sailing.