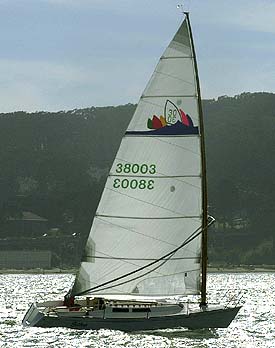 photo: John Riise, Latitude 38
Ad for Dec 2003
A silkye, according to Irish folklore, is a shape shifter - a seal that changes to human form to befriend us and even protect us.
Silkye, Steve Seal and John and Rina Skinner's WylieCat 30, placed first for the year in Handicap Division K and went on to beat the other division winners in the Yankee Cup, HDA's 'champion of champions' finale.
A catboat's one and only sail must shift it's shape to meet every condition, windy and light and everything in between. It must work upwind and down. The original Pineapple mainsail kept Silkye racing and cruising successfully for six years from 1997 through 2002. The new Pineapple sail and the owners' years of competitive sailing gave them the edge in 2003.
Let us change the shape of your boat's performance. Sail orders placed by December 31 qualify for a 10% discount.