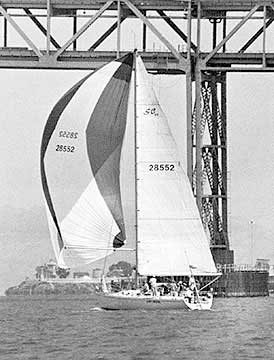 photo: Rob Moore, Latitude 38
Ad for July 2001
More than a hundred-and-twenty boats sailed last month's Delta Ditch Run from Richmond to Stockton on the San Joaquin River. Tom Sanborn's Santa Cruz 52, City Lights, entered at the urging of friends Dave Faulkner of San Diego and Bob King of Seattle, was the first monohull to finish, correcting to first in class and fifth overall.
After blasting through Suisun Bay under the red/white/green spinnaker, built of the colors of the Mexican flag for the 1997 Baha Haha, City Lights sailed the final beat (usually a run!) up the narrow river to cross the line at the Stockton Sailing Club in just 7 hours, 36 minutes from Richmond Yacht Club's start.
The Delta Ditch Run is a fun race, as all sailboat races should be!
It's not all that different from a cruise to the Delta, except for the scorecard.
So whether you are competing to get there first or hoping to get there uneventfully, trusting your equipment is essential. A strong Pineapple main, a fast Pineapple spinnaker, a versatile Pineapple jib - all were key to City Lights' success